Casino Beacon > Casino Games > Rival Casinos and Games
Rival Casinos and Games
From seemingly humble beginnings at the launch of Rival Gaming in 2005, this casino games developer has since become one of the best known producers of high-quality, original and entertaining gambling games of all types for online players. With fifteen years of experience and learning, Rival has consistently improved and enhanced its offerings to online casinos with a company philosophy of "Build games people love to play", resulting in a huge number of casinos now featuring Rival's games as their core provider. Lots of download-based casinos are primarily Rival-based and also incorporate the benefit of including games from other software providers, creating super-sized online casinos with enormous virtual gaming floors - bigger than anything you'll find in Vegas. Another huge plus in our eyes is Rival Gaming's accessibility, particularly when compared to its competition. We have always found Rival to be extremely approachable and friendly and that speaks volumes.
Game Providers - Game Provider/Designer Home - Ainsworth - Alchemy Gaming - Betsoft - Microgaming - NetEnt - Pragmatic Play - Realtime Gaming/SpinLogic - Rival - Triple Edge - WGS Technology
---
Rival featured games: Diamond Rhino - Fruit Splash - Golden Boot - Hail Caesar - Hot Hand - Jack Frost - Misfit Toyland - Party Parrot - Smoking Gun - Viking Victory - Wrath Of Medusa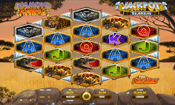 Diamond Rhino by Rival Gaming is a win both ways, diamond shaped slot with 720 win-lines. The software veteran's latest progressive jackpot slot, released in December 2020, is colourfully designed with wild African animals that pop out in a 3D style. The reels are made up of a mixed bag of creatures; lions, cheetahs, crocodiles and meerkats amongst others and the raging black rhino which comes in as a stacked wild with a x2, x3 or x5 multiplier. Diamond Rhino is a low variance slot with a RTP of 93.99%.
Three or more Rhino Diamond symbols will trigger up to 15 free spins. Spin in five 'Jackpot' symbols when betting 2.50 (max bet) on any win-line to take home the jackpot. It's not clear exactly what the jackpot symbol looks like as Rival haven't made it clear (to us anyway) within the game information but we're guessing it's similar to the 'JACKPOT' sign above the pot total at the right hand side of the game. In any case, it will be clear when you've won the jackpot!
Diamond Rhino -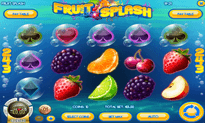 Fruit Splash is a five reel slot with 30 different win-lines on every spin. It's a typically fruit-filled slot game where you'll encounter kiwis, blueberries, strawberries, apples, limes and other assorted fruits and healthy foods.
Keep looking out for the starfruit 'wild' symbol as this one is 'sticky', meaning it will start another spin for free, hopefully adding to your profit. If more starfruit wilds appear then they too become sticky, generating potential mega-wins if you hit the game when a free spins fortune is ready to blow.
Fruit Splash -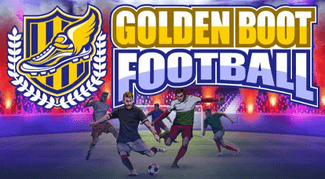 Golden Boot is one of Rival's more polished game additions in recent years but you be the judge. Here comes the inevitable gushing spiel from the game designers.
"With the stadium lights on and the crowd roaring with excitement, players prepare to take the field for one of the most prestigious football competitions in the world. It's time for kick-off in Golden Boot Football! Based off of championship football, players are invited on to the pitch in this 5x3 slot with 25 pay lines."
And there's more. "Get in the middle of the action in this fast-paced video slot packed full of cheering fans, lights, flares and exciting game play. A hat-trick of special features includes, Counter Attack Free Spins, VAR (Video Assistant Referee), Second Chance Sticky Scatters and a Penalty Kick Bonus Round. Icons include an international assortment of football's top players, the Penalty Kick Bonus referee, Counter attack free spins football and The Golden Boot Trophy which is a x5 Wild. So slip on your jersey and lace up your cleats because the big match is about to start."
You wouldn't believe how many exclamation marks we removed from that write-up. So let us know how you get on with your spins if you're plannng on giving Golden Boot Football a kick-about. Rival modestly reckon it's a game where 'Champions are made'. Tell us if they're correct. We did really enjoy the game's fast-pace, heart-thumping soundtrack that plays in the background whilst you spin the reels.
Oh, and we had NO idea what 'cleats' were until we looked it up and found out they are what others call 'studs' on the bottom of football boots. We're here to share vital knowledge such as this.
Golden Boot -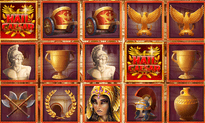 Hail Caesar Fingers crossed, you'll have more luck with this slot game than Julius Caesar enjoyed during his brief reign as self-declared dictator of the Roman Empire. He ruled for only one year before being famously assassinated by political rivals on the 'Ides of March' (15 March 44 B.C).
As with most Rival slots, Hail Caesar has a typical layout (three rows, five reels) with 25 win-lines. Free spins can be activated by landing three or more 'Scatter' symbols anywhere, awarding you ten, fifteen or twenty free spins. Adding hugely to potential profit during the free spins bonus feature, the 'Wild' symbol is converted into a 'Sticky Wild' symbol that remains where it is until the free spins feature ends.
There's more to discover in Rival's latest history-based offering including x5 wins on all 'Wild' combinations and an 'Ides of March Pick Bonus' where you get to 'select Roman citizens and win coin prizes' but we'll hand over to Hail Caesar's designers to give their spin on the game:
"An abundance of wealth awaits as you collect bounties and spin the reels at the awe-inspiring Roman Colosseum! Hail Caesar uses a plethora of themed icons such as the wolf statue, temple, bust, laurel, helmet, labrys (double-headed axes), golden eagle, coin, chariot, chalice, Julius Caesar as well as Cleopatra making an appearance. Hail Caesar brings a fresh spin to five-reel slots with new game features such as the 'Roman Triumph Free Spins' which provides up to 20 free spins as well as 'Sticky Wild Re-spins'. You'll feel like you're constantly winning with the addition of the 'Roman Coin 2nd Chance Feature' which awards automatic re-spins. Intercepting a gang of assassins in the 'Ides of March Pick Bonus' will fill your purse with the riches of the Empire."
Rival's modest claim of 'abundance of wealth' payouts will be lovely to report upon so let us know how you get on with your spins if you're planning on giving Hail Caesar a stab. It's a low-variance slot with an RTP (Return-to-Player) of 94.26% so it should provide decent gameplay for your money. Players of all real money budgets can get involved with playing stakes starting at just $/€0.10 per spin and up to $/€62.50 per spin for the big hitters out there.
Play Hail Caesar -

Hot Hand is a three reel slot game starring the 'she-devil' Burnadette as your 'steamy and sultry host' (these are not our words!). There are only five win-lines to keep an eye on so things are kept pretty simple, often the way to the biggest slot wins.
Fiery versions of traditional slot symbols make up the game including scorching playing card suit symbols, blazing bells and sizzling sevens. Wild multipliers (x2) will come in handy on the first reel but even better, there are x3 wild multipliers on the second reel and x4 multipliers on the third reel. These wild multipliers can combine into enormous wins.
Play Hot Hand -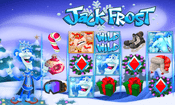 Jack Frost is a five reel, 25 win-line slot that puts Jack Frost up in battle against his brother, Heated Harold - who seems like the nicer guy to us. Jack Frost is very much winter-themed with suitably chilly game symbols such as winter hats, ski goggles and skates. Just what you need to see when you're you're freezing your, um, toes off.
As we suspected, Heated Harold turns out to be the hero of the story with his presence melting away the snow and turning the game into a 'tropical paradise' (that's Rival's description, you might have your own idea of paradise). Spin in three of either of the two brothers' symbols to active the main bonus game - three Jack Frosts for the 'Ice Block Bonus Round' and three Harold Heats for a free spinus bonus round with 'flaming sticky wilds'. Everyone can get involved with this slot as stakes range from just 0.01 to 25.00 per spin, in your own currency.
Play Jack Frost -

Misfit Toyland is a Christmassy slot released by Rival Gaming in December 2017, just in time for Christmas that year. Misfit Toyland is a five reel slot with 243 win-lines and tells a story of Santa and his elves collecting unwanted toys from Misfit Toyland to give to children on Christms Day.
Along with a warming story, Misfit Toyland has expanding wild symbols in regular play and during the free spins bonus round you can choose from having 'Broken Truck' sticky wilds, 'Jack-In-The-Box' expanding wilds or 'Sinking Ship' wilds which expand downwards. Misfit Toyland is festive fun worth a few spins at any time of the year and has an RTP of 94.71% with a maximum payout of x1250 your bet. Stakes can range from 0.01 per spin up to 75.00.
Play Misfit Toyland -

Party Parrot is a standard layout slot (5x3 reels/rows) that exudes brightness and fun. The game is clearly designed to appeal to players who enjoy cartoony-style, easy-on-the-eye playfulness as opposed to striking realism and cut-scenes from movies. There's even a story-line for players who prefer some meaning to their gambling! In the case of Party Parrot, the scenario is that there's a party in the jungle and - wouldn't you know it? - you've been invited! Our 'party parrot' is named Pete and as you'll be playing as Pete, it's your job to hit wins. Along the way you will encounter jungle-stuff such as a cockatoo, eggs, maybe a flamingo, some parrots, pelicans and penguins (penguins in the jungle? what?) and toucans. We're still not sure what a penguin would be doing in there.
The game designer's 'instructions' explain that 'Three or more 'Drop' symbols will initiate the 'Drop Feature' where cascading wins will remove the winning symbols and replace the empty spaces with new symbols, hopefully creating even bigger wins. That said, apparently the expected Return-to-Player for Party Parrot is a bit on the low side at 93.74% (we've seen slightly different RTP's for this game on other sites but always in the 93% range) so this is a game that does have potential to pay big wins and burst your account balance but is more likely to entertain you with more regular, steadier top-ups along the way. In other words, have fun with Party Parrot, don't expect anything massive and then if something juicy does land in your lap, it'll be an unexpected surprise.
Play Party Parrot -

Smoking Gun is five reel slot with a hefty 50 different win-lines. It's a Wild West-themed slot and this time you're placed in charge of protecting a town from bandits. As well as traditional slot symbols (plus wilds and expanding wilds), you'll also come across bandits, cowgirls, the 'Doc', a pistol and an outlaw. If that's not enough, there's also a bottle of whiskey to look out for.
As to be expected, there's a free spins bonus round where you'll get to choose one of three different opponents and attempt to 'Oust The Outlaw' for - hopefully - a yee-haw worthy win. Rival Gaming released Smoking Gun in March 2019 and the game has an RTP (Return-to-Player) of 94.93%. Stake ranges are considerable, from just 0.01 to 125.00 per spin in your own played currency. Smoking Gun's maximum payout is a mighty quarter of a million (250,000.00).
Play Smoking Gun -

Viking Victory is set back in 800 A.D, when the Vikings were at the height of their prowess. Still today, their gods and myths remain in the minds of many.
A popular slot theme portrayed by many game suppliers, Rival's take on Norse mythology packs a reasonable punch with thoughtfully designed graphics and game mechanics. The three to five row, five reeled slot is set on a white, frozen backdrop with light specks of snow continuously falling.
Viking Victory's base game has 243 ways to win which is made up of just three rows. Featuring 'Drop Icons' as they're called by Rival or as they're known by other providers; cascading/rolling reels. Winning comminations will disappear, making room for more symbols to drop in, this will continue without additional funds being spent until the run of wins ends.
Spinning in three, four or five bonus scatter symbols will trigger 5, 10 or 15 'Asgard' free spins, respectively, with x3 multiplier. This will also open up a forth row increasing the ways to win to 1024. Landing another three-five scatters from within the Asgard bonus round will take you to the 'Glory of Valhalla' round where wins are multiplied x9 and the final/fifth row will open up and once again increase the ways to win - to a huge 3,125! Viking Victory is a low variance slot with an expected RTP (return to player) of 94.11%.
Play Viking Victory -

Wrath Of Medusa is a five reel slot game with an RTP of 93.86% and an 'any ways pays' format delivering a not-too-shabby 243 different ways to win on every spin. The game is set on 'the edge of the known world' where the delightful Medusa the Gorgon resides in her 'barren wasteland' surrounded by crumbling stone statues. Apparently, it's your mission as the lucky Greek mythology warrior Perseus to take on the scary-ass Medusa armed only with a sword and shield. According to Rival's own write-up, 'foolish adventurers' have already attempted to seize the Medusa's treasure and are now part of the statue furniture. Tempted much?
Your adventure playing Wrath Of Medusa involves suitably-themed symbols such as jewels, coins, shields, swords, daggers and the like. What you'll really be hoping to appear with regularity is the stone soldier wild symbols to stack up extra win-lines and despite not particularly wanting to meet a Medusa ourselves, in the Wrath Of Medusa slot she will become an 'expanding wild' potentially creating some of the game's biggest wins for players.
Going back to our hero of the story, Perseus is a 'scatter' symbol who can initiate a 'Stone Soldiers Pick 'em' bonus and if he appears during this bonus, you'll be awarded free spins. Wrath Of Medusa is definitely worth some spins if you're into Greek mythology and terrifying women with living, venomous snakes instead of hair. Let's just count ourselves lucky that Medusa is the only Gorgon villain in this story - apparently she has two sisters named Euryale and Stheno who are somehow even more bad-ass than Medusa with Stheno killing more men than both of her sisters combined. Lovely!
Play Wrath Of Medusa -
---
Rival company website: www.rivalpowered.com