Casino Beacon > Casino Games > Betsoft Casinos and Games
Betsoft Casinos and Games
Founded in 2006, Betsoft is a very well-known game designer and supplies its games to online casinos catering to worldwide players, with few of the country-restrictions enforced by most software developers and studios. Located in Malta, Betsoft is one of the most prolific game producers with a regular flow of new releases made available to players every month and now provides its games to more than 500 online casinos. Betsoft's games frequently stand out from the competition with entertaining, fun graphics and 3D slots. Betsoft is hugely popular with download-friendly and browser-based casinos alike, along with a healthy number of mobile-based games. Since the company's inception, Betsoft has won numberous awards for its innovative games including 'Casino Supplier of the Year', 'Slot Provider of the Year', 'iGaming Excellence' and 'Media Innovator' on several occasions.
Game Providers - Game Provider/Designer Home - Ainsworth - Alchemy Gaming - Betsoft - Microgaming - NetEnt - Pragmatic Play - Realtime Gaming/SpinLogic - Rival - Triple Edge - WGS Technology
---
Betsoft featured games: Book Of Darkness - Carnaval Forever - Faerie Spells - Fruitbat Crazy - Gemmed - Gold Canyon - Miles Bellhouse & the Gears of Time - Spinfinity Man - Spring Tails - Take Santa's Shop - The Hive - Viking Voyage - Yak Yeti and Roll - WhoSpunIt? - Wolf Moon Rising

Book Of Darkness invites you to 'uncover the secrets of dark magic' in a fixed ten-winline slot where you'll be on the hunt for mystical books and then choose a hero to fight for in the 'Clash For Power' bonus rounds. Sounds like plenty of action.
Keep your eyes on the screen, looking out for when the 'Huntress' and 'Dark Wizard' symbols align next to a 'Book' symbol - this is when the 'Clash For Power' gets started and the excitement level rises. You'll choose a fighter and complete the 'Hero Meter' (you gotta love that name) by receiving wins with your chosen hero. If your fighter wins, you will be richly rewarded and start another bonus round.
As we mentioned, there can be a lot of action during gameplay and we're not finished with the features of Book Of Darkness just yet.
Another feature to cross your fingers for is the 'Shadowform' bonus when you'll become involved in the action as the Huntress and Dark Wizard do battle with each other, exploding your wins. If the Dark Wizard happens to win the Clash For Power then he will convert five symbols to expand mode. If the Huntress has kicked Dark Wizard's butt then she will (for whatever reason, we don't know) award you a x5 win multiplier to any and all wins. Either way, you're getting paid.
Play Book Of Darkness -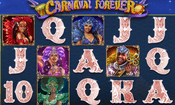 Carnaval Forever is a five reel slot with ten win-lines, released in February 2019 and themed around the annual Rio Carnival that attracts millions of visitors to Rio de Janeiro, Brazil. The Rio Carnival has been described as 'The biggest open-air show on Earth'.
Carnaval Forever attempts to replicate some of the festival atmosphere with attractively-themed slot symbols and a music track that plays to the rhythm of the game action. Any 'float' symbols are 'wild' and so can transform into another symbol to create bigger wins. Spin in three (or more) 'queen' symbols and you'll definitely feel the party spirit in the form of between 5-9 free spins. There are other features to discover so give Carnaval Forever from Betsoft a try to join in the festivities.
Play Carnaval Forever -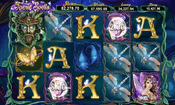 Faerie Spells released by Betsoft in January 2019 is a slot game which we initially assumed was a misspelling of 'fairies' but a quick online search reveals a darker side. Fairies are lovely, as we know, but apparently faeries are "evil, horrid, and mischievous creatures". So with that lovely introduction dealt with, Faerie Spells is a five reel slot that uses Betsoft's trademark stylish 3D graphics style.
Faerie Spells has ten win-lines and an average payout of 96.03%. Standard 'wild' symbols boost your winnings and the added attraction of hoping for three wild symbols forming a win as it'll multiply your win by x20! There's the inevitable free spins 'bonus round' activated by spinning in three or more Faerie Queen symbols and plenty more in-game features to keep you occupied and entertained.
Play Faerie Spells -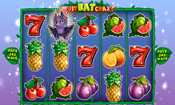 Fruitbat Crazy is a five reel slot game from Betsoft released in March 2019. It's an 'all-ways-pays' slot with 243 different ways to win on every spin. The game has been called a 'new slant on a traditional slot', with the star of the game being a 'cheeky bat' on the hunt for 'clusters' of various symbols - berries, cherries, citrus fruits and melons - to sink his fangs into.
Fruitbat Crazy is best played to be understood and experience the 'slant' referred to the form of non-traditional cascading features where the symbols 'collapse' on a 'combo-by-combo' basis with the smallest wins generated first, leading to some seriously exciting gameplay anticipation. We hope you get the picture - but do check it out, it's good fun and continues the celebration of new twists being applied to slot games.
Play Fruitbat Crazy -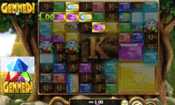 Gemmed is a strange slot that comes in all shapes and sizes. Created by gaming veterans Betsoft, Gemmed offers players an almost disbelievable 40,503 ways to win on every spin. Is that enough win-lines for you?
Gemmed is a nice break from the generic in many ways including using a 9x9 row/reel layout as the gameplay area. No boring 5x3 here! Gemmed includes lots of nice touches, an interesting environment and fun bonuses as you play including 'contagious symbols' which are more pleasant than they sound, 'infecting' adjacent and diagonal symbols to generate bigger payouts. There's loads to discover in Gemmed and it's well worth checking out.
Play Gemmed -

Gold Canyon is a slot game from the designers at Betsoft released in July 2019 with an RTP of 96.13%, 20 win-lines and a maximum payout of x4774.80 your stake. If you enjoy cowboy or 'wild west' themed games then this slot could be for you with plenty of pistol shooting, treasure hunting and outlaws to be thwarted.
The designers of Gold Canyon have clearly put plenty of effort into creating a fun game with a worthwhile 'storyline' - not always easy with slots but Betsoft has been knocking out some good stuff. Look out for dynamite symbols during your spins - three or more of them will explode into a free spins bonus round.
Play Gold Canyon -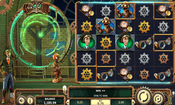 Miles Bellhouse & the Gears of Time is a 'new uniquely crafted' 5x5 grid-layout slot game with an RTP (Return-to-Player) of 96.98%. Apparently (here comes the storyline), Miles Bellhouse has been experimenting with time again. We had no idea he'd done it previously but moving on... playing this slot will, claim Betsoft, take you on a trip of a lifetime and you will seek out timeless riches. Betsoft's promotional waffle tells us that when playing Miles Bellhouse & the Gears of Time, 'The Past, the Present and the Future provide a new and exciting gameplay experience'.
With every spin, Miles Bellhouse will randomly select five grid positions which could be covered by a winning cluster at the end of each cascade. The more winning clusters that cover selected positions, the greater the chance to trigger one of the special Time Traveling bonus features.
Play Miles Bellhouse & the Gears of Time -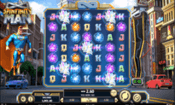 Spinfinity Man is accurately described by Betsoft as a 'cluster-based, cascading game' as your winning symbols explode and disappear, allowing more symbols to drop down and hopefully combine to make another win - meaning more exploding symbols and more dropping. You get the picture - as long as the symbols form a win then your balance will be boosted risk-free.
There's a considerably more detailed storyline and theme to Spinfinity Man than we get with most slots, including admiring fans and even Spinfinity Man's very own supervillain, Mr X, to deal with. There are also loads of in-game bonus features that range from free spins to exploding or freezing clusters of symbols or entire reels or rows of symbols via 'laser eye beams', super telepathy powers and icy breath. There's a big showdown between Spinfinity Man and Mr X where you'll do battle for glory - and money.
Play Spinfinity Man -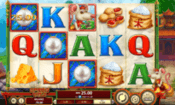 Spring Tails follows the standard slot-game layout of five reels and three rows. There are just five win-lines to concentrate on so it's not complicated to follow during gameplay but the potential for winnings are anything but small, with a maximum win of your stake multiplied by a mind-bending x300,364! The RTP for Spring Tails is 95.84%.
Wild symbols will appear on the second, third and fourth reels, increasing or creating additional payouts with random multipliers stacking up to an impressive x60. Land three 'Golden Keys' on the same three reels and you'll be taken to the free spins bonus game that awards 12 free spins and - unlike when playing most slots bonus rounds - there are NO low value symbols on the reels during your free spins! So that's definitely a bonus feature worth aiming for. Betsoft reckon that Spring Tails offers (their quote) 'MEGA potential, an exciting bonus round and an adorable rat character'. We'll let you be the judge of the adorability of the rat!
Play Spring Tails -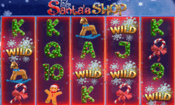 Take Santa's Shop joined the inevitable festive celebrations in November 2020 with the addition of this Betsoft slot game. If you - like us - sometimes want to be the 'bad guy' instead of always playing some kind of super-hero or do-gooder, then Take Santa's Shop is definitely for you. All your Christmas intentions are bad with this game!
The average RTP (Return-to-Player) is 96.08% with loads of win-lines on every spin - 75 win-lines to be precise! Steering well clear of any good objectives, your role in Take Santa's Shop is to become the mischief-maker and help the 'Holiday Robber'. The robber will, in turn, generate winnings for you.
The Christmas scene is unmissable with snowflakes falling across the reels, bells jingling and 'Ornament Bombs' that transform into wild symbols to increase your wins even further. Betsoft describe Take Santa's Shop as a 'special progression game' that is played in rounds of ten with each spin. An 'Ornament Bomb Counter' will count down from 10 to 0, causing all bombs to detonate for even larger wins. Keep an eye out for Santa's Sleigh symbols landing on the reels as they award 15 free spins.
Players who want to jump straight into the free spins bonus feature without waiting for it to land naturally can hit the 'Buy Feature' button that allows you to head immediately into the free spins feature. If you do this then you can also decide for yourself how many wild symbols you will have per spin.
Take Santa's Shop is a fun new addition to any online casino's slot collection and certainly worth a few spins if you've been a naughty boy or girl this year. If you've already pissed off Santa during the year then why not finish him off by stealing his stuff? We like it!
Play Take Santa's Shop -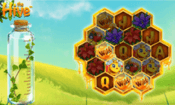 The Hive was released on 25 June 2020 and features 'wild' symbols to create additional win-lines. When you land these wilds during the free spins bonus round these symbols will expand to adjacent symbols with every spin. Your bonus round kicks off with up to three of these expanding wild symbols and they can accumulate to generate some impressive bonus wins.
Described by the designers as 'a unique hexagonal grid video slot', The Hive is a game full of various bees each with their own attributes and benefits. As mentioned, The Hive has a hexagonal layout perfect for the game's theme with 30 different win-lines per spin and an RTP of 96.97%.
There are three different types of bee to help boost your chances of winning in The Hive. First, the Queen Bee will summon a rush of even more bees. Second up is the Drone Bee who helps to top-up your 'honey meter' which when full will activate a free spins bonus round. Finally, Worker Bees do their magic with winning paylines by applying win multipliers to increase your profit.
Play The Hive -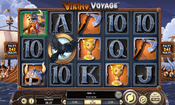 Viking Voyage is a five reel slot that actively encourages players 'to go looting' in true Viking-style. Viking Voyage will be ideal for players who have a thing for Norse seafarers or anyone with a taste for battle! There's plenty of Scandinavian touches and you can expect to encounter battle axes, Viking horned helmets, royals, runes and more as you spin the reels.
Viking Vogage's in-game features include stacked wild symbols to get the blood pumping, free spins (15 of them) and other bonus features to strive for and just ten win-lines to keep an eye on. Betsoft tell us the game's RTP is 96.12%. If this sounds like your thing, give Viking Voyage a stab (seems appropriate).
Play Viking Voyage -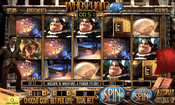 WhoSpunIt? is an interactive slot and is BetSoft's take on the well known Cluedo game. Identify the murderer at Wellington Manor and win along the way. WhoSpunIt? provides unique gameplay with a new case every time you play through the story. Collect clue spins and count down to detective mode, match five clues to level up. Collect all three evidence clues and solve the murder to win big.
Get free spins when each character appears on each of the 5 reels, choose a character for different free spins features. WhoSpunIt? is a fun and highly interactive slot and is a strong addition to BetSoft's Slots3 range.
Play WhoSpunIt? -

Wolf Moon Rising by Betsoft is a 96.53% RTP slot with 25 win-lines where the designers reckon you can 'dream big, win big' with potential wins of up to x20,000 your bet - which has to be one of the biggest stake multipliers you'll encounter playing online slots.
Wolf Moon Rising provides additional payout potential in the form of an in-game bonus round that pays both ways (reels left to right and back again!) and also DOUBLES your wins. Betsoft has incorporated plenty more bonuses and other feature aspects into Wolf Moon Rising including special symbols that 'guide' the player to fortune, 'elemental' wild symbols and feather 'talismans' that activate 12 free spins (paid both way with all wins doubled again).
Play Wolf Moon Rising -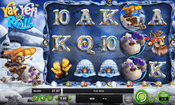 Yak Yeti and Roll is a five reel slot released by Betsoft in December 2018 with an RTP (Return-to-Player) of 95.93% and 20 win-lines. Yak Yeti and Roll is particularly suited and themed for the chillier months with plenty of snow on the ground. This is a 'cascading' slot where winning symbols are replacing with additional symbols to (hopefully) form extra wins and features an 'eccentric Inuit inventor' and his yeti buddy, as they make their way across icy plains.
Player feedback for this 'probably' medium-variance slot is pretty good and apparently, not surprisingly, it's the free spins features where Yak Yeti and Roll really shows what it can do. Yak Yeti and Roll includes a 'Buy Feature' option enabling you to pay a fee to go straight into the main bonus feature and with luck, make a tidy profit on your investment.
Play Yak Yeti and Roll -
---

Betsoft company website: betsoft.com